Obstacle Courses
for Rent
Obstacle courses are like bounce houses but have more interactions for the kids. They are often great for teenagers to race each other through the course to see who is the fastest.
Have competitive races and lots of fun with these large inflatables.
Obstacle courses are like bounce houses, but they provide more activities for kids. These are ideal for teens to race against each other on the obstacle course and see who is the fastest.
For added durability, our Interactive Obstacle Courses have reinforced seams to ensure they're strong. Your guests will have endless hours of turning, twisting, climbing, and fun. Our Obstacle Courses are referred to as Crowdpleasers. They are a lot of fun for kids of all ages.
In addition to entertaining, the inflatable obstacle course also helps the children to learn and is a great way to enhance your child's interaction abilities. You can use the inflatable obstacle course for your indoor gatherings and also encourage the children to be a participant in various activities. With the various types and sizes of an inflatable obstacle course, the children can run through the hoops, compete with each other, push the different obstacles, and have a lot of enjoyment.
There are a variety of dimensions and styles to pick from when it comes to inflatable obstacle courses. The fun and colorful structures attract kids and make your party a hit.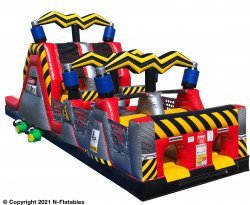 High Voltage Jr Obstacle Course
from $425.00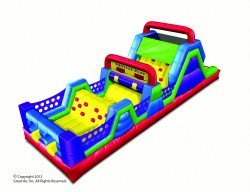 Wacky Jr Obstacle Course
from $375.00